September 1, 2017



Hello Everyone,
We sure missed you last month. Phew, we are absolutely exhausted. Mom had us cleaning the deck, washing curtains, cleaning every crook and cranny in the house and the list goes on!! Whatever happened to "Spring Cleaning"? Someone needs to let Mom know we should only have to go through this once a year, not twice!!

September 2, 2017



Yep, you got it!!! It is football season again and our favorite team played their first game today and of course they won. We pupsters have to admit that maybe it is the pop corn that goes along with the football games that excites us the most, but don't tell Mom and Dad that. We don't want to hurt their feelings.

September 7, 2017



Wow, Mom is actually cooking. Well, let us tell you why. She says she has been trying to get rid of her spare tire for 8 years. Now we are confused because we thought you were supposed to keep your spare tire in case of an emergency..you know like a flat tire. So, she is now only eating meat, vegetables and fruit. We enjoy watching her every Monday when she weighs in and see her all excited because she lost another pound. So, it is only healthy eating for her! We sure miss some of the snackies we used to get, but hey, steak ain't all bad!!

September 14, 2017



Hey, all you pupsters. See the kind of toys you get when you live in California? Presto here is having the time of my life!! I get anything my little heart desires and as you can see any toy I would like. I told Mom and Dad I really thought those bikers I saw were cool and voila….instant pupster motor cycle!! Eat your hearts out!!

September 21, 2017



Well, this is now getting out of control. Jasper has a licking disorder..anyway that is what we pupsters think. Now Vangie is making things even worse for she lays down and lets Jasper lick her from head to paw. Geez, he slobbers all over her and she thinks it is cool. Man, you should feel her coat when he's done. She claims his tongue massage is improving her coat..makes it shinier and healthier. We pupsters think she has a few screws loose!!

September 26, 2017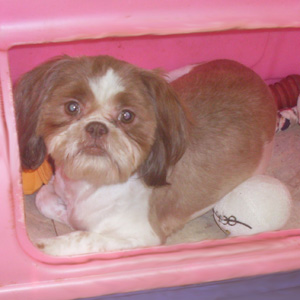 Caila reporting in! I am one of the new kids on the block. I am quite nervous…all these new things to see and smell…so I have taken up residence in the toy box. I feel safe in here. Mom says it won't be long and I will be out and about with all of the pupsters. Right now I am more comfortable just observing from my "safe place".

September 30, 2017



Cherish reporting in. I may be small, but all of the pupsters said I was at least big enough to be the one to thank everyone for their help this month with all of my pupster friends that arrived with me. We are all doing great. Mom and Dad keep a very close eye on me, but I keep telling them all will be well. I can't wait until October to see what kind of mischief I can get into!!
Copyright© 2004 - 2018, Peke A Tzu Rescue. All Rights Reserved.
Pekingese Rescue, Shih Tzu Rescue, Maltese Rescue, Poodle Rescue & Yorkie Rescue.
Contents of this site are the property of Peke A Tzu Rescue.
Do not take anything from the site without permission.