December 1, 2016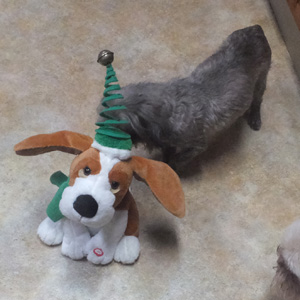 Well, here we go!! Mom goes absolutely nutso at Christmas time. She gets all of this stuff out and particularly likes to drive us crazy with her animated, talking animals. Now mind you we have to listen to the narrative and are not allowed to make any effort to quiet them…if you know what we mean. If you would like to see what we mean have fun
Viewing our Video!
Don't forget to turn your volume up...

December 3, 2016



Merry Christmas everyone!! Jaba (fka Stover) reporting in with my pupster brother Chewy and my brothers. I am having such a good time and love, love, love my new home. I am being so spoiled it is unbelievable. Now, if I can just leave that Christmas tree alone I'll be all set. Probably looking at a few time outs here….

December 8, 2016



Wow, talk about a bad hair morning! Prius here had a rough night. I just couldn't get comfortable no matter what I did. Then I drank too much water before I went to bed so was up several times to go potty which was a BIG mistake because it is really cold outside! No matter what I did with my pillow I just couldn't get the right shape. It was just one thing right after the other. I'm headed for the shower and hope Mom has the coffee on when I emerge!

December 13, 2016



Razzy reporting in. Hope you all enjoy my picture. To all of you pupster girls…remember when you would not hold paws with me and refused my advances? Well, what do you think of me now? I am here to tell you my little black book is running out of space I have so many admirers. I do miss all of you so much, but wouldn't change my life for anything…the pillow tells it all!

December 17, 2016



Rule #1..Never barkle as your Mom walks out the door with shovel in hand and you say "better you than me" while you are sipping on your hot tea.
Rule #2..Never snicker behind your paws because of what your Mom is wearing and tell her she needs to get with the styles.
AND
Rule #3..NEVER ask if your Mom could measure the snow before she shovels so you know how much has fallen for you will surely be measuring it yourself!

December 19, 2016



Well, would you look at this. We just love the Holiday Season. All kinds of goodies being delivered…yum, yum, yum. Actually Mom doesn't know we found this plate and we have a feeling the fun is going to come to an end real quick for chocolate is definitely not on our menu, but at least we can try!! No doubt there is going to be a big time out coming our way.

December 25, 2016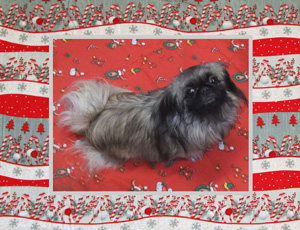 Christmas day is preceded with shopping, wrapping gifts to place under the tree, lights in the windows, stockings hanging in the living room, receiving cards in the mail, snow on the ground for us Northerners, thawing the turkey, and shouts of "Merry Christmas" to all those we meet. Christmas day arrives and all gather together. Love surrounds us and lots of hugs and kisses are shared between all we hold dear to us. This year let's all look to God for all our needs to be met and the joy and peace you will receive will last the whole year for today is truly a day of celebration. All of us here wish you a Blessed Christmas and we all hope you can feel the hugs we are sending to all.
Copyright© 2004 - 2016, Peke A Tzu Rescue. All Rights Reserved.
Pekingese Rescue, Shih Tzu Rescue, Maltese Rescue, Poodle Rescue & Yorkie Rescue.
Contents of this site are the property of Peke A Tzu Rescue.
Do not take anything from the site without permission.