Pet Water Bottle Stands
Pet Water Bottle Stands are the perfect solution for furbabies; both dogs and cats are able to drink water without getting a wet face, beard and chest. The Pet Water Bottle Stand eliminates problems with puppies sloshing water around, knocking over water bowls or dirtying the water. In the past, people would have to use a crate to hang the water bottle or permanently attach them to cabinets or walls. But now, the portable Pet Water Bottle Stand can be used in any room of your home and can travel with you on road trips.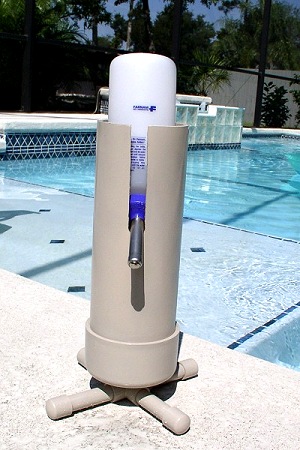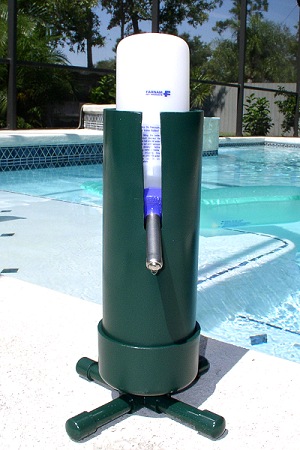 No debris of any kind will get into the drinking water. The best part is there will be no more wet faces that breed bacteria and trap dirt. Your baby will have a clean dry face that smells sweet and kissable! Buy one today as a gift for your furbaby and yourself.

Our current color selections are below. We plan to add more color choices in the near future to match the decor of your home. Simply fill up the bottle and place inside the stand. You will know when the bottle is empty by the sound that the bottle makes when the furbaby licks the nozzle.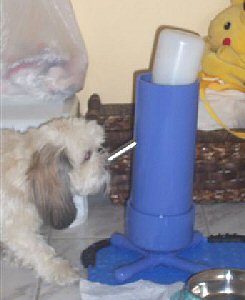 The custom painted Pet Water Bottle Stand is available in 2 sizes; our small stand accommodates a 16 oz. water bottle and our large stand accommodates a 32 oz. water bottle. The standard height for the nozzle tip is 8.5 inches from the floor on each Pet Water Bottle Stand. The 16 oz. (small) Pet Water Bottle Stand is $60 including USPS Priority shipping within the continental US. The 32 oz. (large) Pet Water Bottle Stand is $70 including USPS Priority shipping within the continental US. (Sorry we can not take orders outside of the continental US at this time.) Your order will be processed within 4 days and you will be notified of the shipping date.

PLEASE NOTE: Water bottles are NOT included with the Pet Water Bottle Stand. Pet water bottles can be purchased at your local pet supply store such as Petco and PetSmart. Prices for the 16 oz. and 32 oz. water bottles range from $4 - $7.

The shipping and packing material costs often exceed $15 per water bottle stand. 100% of the Pet Water Bottle Stand sales (less shipping & packing cost) go directly to paying for food and vetting expenses for the foster pupsters in the rescue. With so many seniors and special needs dogs, we have huge vet bills. Harvey & Jennifer donate all material and labor and for this reason, All Sales Are Final. No returns or exchanges. If you have any questions or prefer another color choice or nozzle height, please email us at cavex2@aol.com. If you prefer to pay by other methods, please follow instructions at the bottom of the page.

Current Color Choices
Espresso Brown

River Rock

Hunter Green

White

Navy Blue

Burgundy

Blue Hyacinth

Sunbeam Yellow

Black

Spring Grass

Almond

Red Pepper

Honeydew

Fairytale Pink

Gum Drop

Buttercream

Satin Twilight

Satin Khaki
Order 32 oz. (large) Pet Water Bottle Stand Below
Order 16 oz. (small) Pet Water Bottle Stand Below
If you prefer to pay by personal check,please
make your check payable to Peke A Tzu Rescue
and mail to:
Peke A Tzu Rescue
16130 West Stanton Road
Trufant, MI 49347
Include the quantity of water bottle stands, 32 oz or 16 oz,
color choice, optional nozzle tip height and your email address
so we can email to confirm order.
Back to Peke A Tzu Rescue Gift Shop
Copyrightę 2006 - 2011, J. Boyd. All Rights Reserved.
Photos of water bottle stands belong to J. Boyd. Do not take anything from the site
without permission.