The Pet Water Bottle Stand is the perfect solution for furbabies; both dogs and cats are able to drink water without getting a wet face, beard and chest. The stand eliminates problems with puppies sloshing water around, knocking over water bowls or dirtying the water. In the past, people would have to use a crate to hang the water bottle or permanently attach them to cabinets or walls. But now, the portable Pet Water Bottle Stand can be used in any room of your home and can travel with you on road trips. No debris of any kind will get into the drinking water. The best part is there will be no more wet faces that breed bacteria and trap dirt. Your baby will have a clean dry face that smells sweet and kissable! Buy one today as a gift for your furbaby and yourself. Simply fill up the bottle and place inside the stand. You will know when the bottle is empty by the sound that the bottle makes when the furbaby licks the nozzle.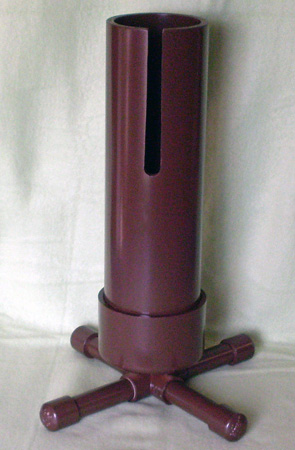 We offer our Pet Water Bottle Stand in four colors. Previously we had offered additional colors but found that these four colors were chosen over others. Limiting color choices allows our volunteer to make the water bottle stands in advance so that we can ship to our customers immediately. Simply fill up the bottle and place inside the stand.




The custom painted Pet Water Bottle Stand is available in 2 sizes; our small stand accommodates a 16 oz. water bottle and our large stand accommodates a 32 oz. water bottle. The standard height for the nozzle tip is 9 inches from the floor on each stand. The 16 oz. (small) Pet Water Bottle Stand is $65 including USPS Priority shipping within the continental US. The 32 oz. (large) Pet Water Bottle Stand is $75 including USPS Priority shipping within the continental US. International buyers please contact us for shipping costs. Your order will be processed within 24 hours and you will be notified of the shipping date.

Our stand is in loving memory of Harvey Boyd who joined all of our pupsters at the Rainbow Bridge in June of 2009.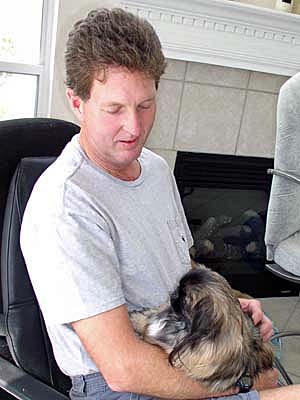 PLEASE NOTE: Water bottles are NOT included with the Pet Water Bottle Stand. Pet water bottles can be purchased at your local pet supply store such as Petco and PetSmart. Prices for the 16 oz. and 32 oz. water bottles range from $4 - $7.

The shipping and packing material costs often exceed $15 per water bottle stand. 100% of the Pet Water Bottle Stand sales (less shipping & packing cost) go directly to paying for food and vetting expenses for the foster pupsters in the rescue. With so many seniors and special needs dogs, we have huge vet bills. Our volunteer donates all material and labor and for this reason, All Sales Are Final. No returns or exchanges. If you have any questions please email us at info@pekeatzurescue.com. If you prefer to make payment other than through Paypal please follow instructions at the bottom of the page.

Current Color Choices
| | |
| --- | --- |
| Espresso Brown | River Rock |
| Black | Almond |