Peke A Tzu Rescue Vehicle License Plate Frame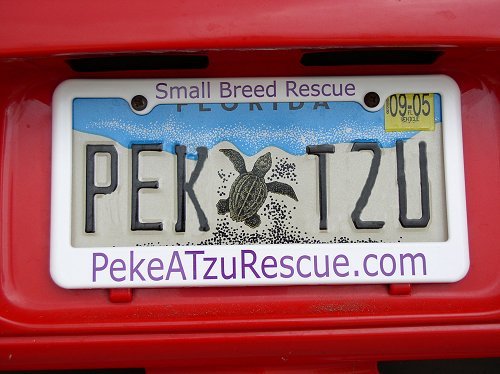 Support Peke A Tzu Rescue with our vehicle license plate frame. Let everyone know that you care about the millions of homeless pets who need to be adopted. We constantly talk to people who are not aware that there are dog and cat rescue groups who save and rehome these precious furbabies. Help these homeless babies by advertising Peke A Tzu Rescue. The license plate frame is white with dark purple text. The license plate frames are 12 inches wide and 7 inches tall and fit around your current vehicle license plate.
They are $7.00 each including first class shipping within the US. If shipping to Canada or UK, postage will be $7.00, so please add to the cart below. We are now offering US Postal Service Priority mail with delivery confirmation within the US for $7.00. To order, click on the USPS Priority Shipping Paypal button below. Peke A Tzu Rescue is happy to accept your donation through paypal by using the links below and your order will be processed IMMEDIATELY. If you prefer to pay by other methods, please follow instructions at the bottom of the page.

If you would like your License Plate Frame Shipped by USPS Priority Mail, please pay below
If you prefer to pay by personal check,please
make your check payable to Peke A Tzu Rescue
and mail to:
Peke A Tzu Rescue
16130 West Stanton Road
Trufant, MI 49347
Include the quantity of license plate frames and your
email address so we can email to confirm order.
Back to Peke A Tzu Rescue Store
Copyright© 2005 - 2022, Peke A Tzu Rescue. All Rights Reserved.
Contents of this site are the property of Peke A Tzu Rescue. Do not take anything from the site without permission.