Loki's Forever Home Update
March 15, 2006
Dear all,
It has been almost 3 years since I met my Mom and my sister Keiko, and I want you to know that I am very loved by them, and I love them very much too. Mom says that I keep her on her toes, and always have a challenge ready for her-and I guess that I do, especially when she goes away - for I miss her so! Keiko thinks I am handsome in tails and a tie, and Mom says that I am very alluring in full dress, as I am now. We are grateful that God brought us together, and we are thankful for our friends that love us, and understand our laughter and fun with life.
Woofs & Kisses,
Loki Benjamin
February 6, 2006
Dear Auntie Jan,
Because I couldn't come to visit with Mom, and it has been a LONG time since I have seen you, I thought I would drop you a note, and yesterday's pictures. As you can see, we had a hard day yesterday-Mom was home all day - so we were really busy.
Mom says you wouldn't know me with all my hair, Aunt Durry says "Loki's getting fat!", but Mom just says it is FLUFF! And "I AM FLUFFY" now!
Keiko and I look at the pictures of your pupsters, and she is always lusting after one or another of the B/W Tzu boys-Boy she is so into them!! I tell her "we aren't having any more of us, 2 is enough!" She doesn't understand that it would make a Lot more work for Mom.
I try to cuddle with her and be good, but this running and playing confuses me, she knocks me over if she doesn't stop in time, and I don't like that. Sometimes I do TRY to play tug of war with her tho.
I am doing fine, I have been pretty healthy, and REALLY REALLY good, (there is mention of something called an "attitude" sometimes), whatever that means. Mom said to tell you I haven't destroyed anything since she visited you-but gum is so good to chew on!! Mom said to tell you that THE CAT (Jordee), loves to be in the Fishy, and we have to let her, because she is really old, but we do sneak in sometimes anyway!
Well, I better stop bothering you, but I wanted to tell you thank you for helping me find my FOREVER home, and that I know we wouldn't have found each other if it wasn't for you and Unkie Bruce. Mom says I can come to visit you, and Auntie Judy too, when it gets warmer out.
Love and many kisses,
Loki Benjamin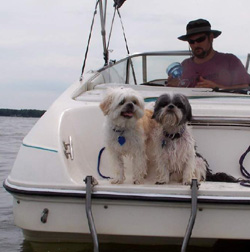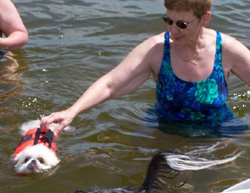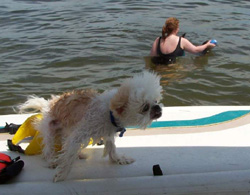 July 23, 2005
Auntie Jan,
Mom, Scott & Missy took us swimming and boating this weekend. Boy was that fun, at first I thought the swimming thing was for the birds, then Missy started swimming me around, and I like that fine. The boat is FUN, but Mom won't let me hang over the edge when we are going across the water!! Keiko was scared, but I told her it was ok, especially if someone will hold you and swim. We were on the water for 4-5 hrs, and we had a great time. Loki B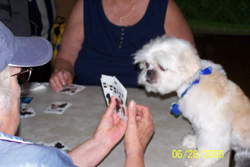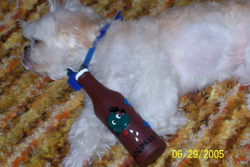 June 30, 2005
Auntie Jan,
I learned to play cards and drink doggie beer on vacation with Auntie Barb, Auntie Mary, and Mom.
Loki B
April 21, 2005
Auntie Jan,
Here is my official Anniversary pictures. 2 years ago I ran when mom got the camera out, but I am now very brave and put up with her incessant picture taking. Keiko & I went to the groomer today, as you can probably tell. I wanted a picture of me and my "baby" that auntie Dur gave me when I came here, it is my very bestest thing in the world. Love & kisses
Loki B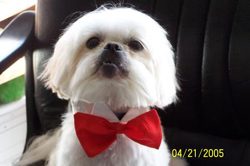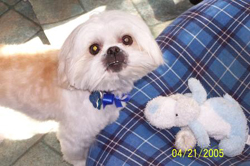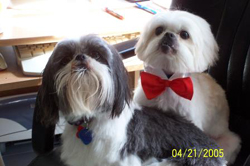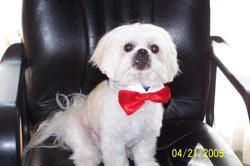 April 19, 2004
Hi Everyone,
Today is my 2 year anniversary! Auntie Jan & Unkie Bruce left me here 2 years ago today, and I was scared and didn't understand why they didn't come back to get me, what had I done wrong!! Then my new Mom started telling me what a wonderful little guy I was, and that I was handsome, and not to be afraid. So, I lay down in her arms and felt so warm and loved that I decided "this might work"! WELL IT HAS! Mom says we will get better pictures later this week, but I wanted to tell everyone that I AM LOVED.
Loki Benjamin (formerly Lucky)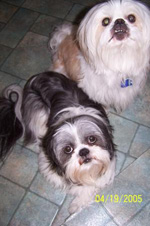 April 13, 2004
Dear Auntie Jan,
Mom took me to the doc today for my physical, and I weigh a svelte 9.5 lbs (Mom doesn't believe that, thinks his scale is off), and all that is wrong (other than my occasional attitude) is I have a lot of this junk called tartar (don't you put that on fish) on one of my teeth. I HATE TO HAVE MY TEETH BRUSHED!!!! Mom can scratch it off if she wants, but keep that darn brush thing out of my mouth!! I got a booster shot and the doc said I was a very good boy, I didn't even flinch! Mom got us our heartworm treats, we can hardly wait for them, they are yummy good.
Guess that is all there is about me, but Mom wanted me to tell you that the lady that works there (docs) is going to give your card to a widow lady that might be interested in a small, not puppy age doggy, and another lady that likes those Yorkie midget dogs, but might like one of us too.
I hope you have a nice day, and tell that "Smores" dog to stay away from my Mom please. She thinks he is way too cute for my comfort!
Your friend,
Loki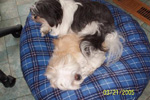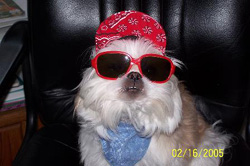 December 14, 2004
Dear Auntie Jan,
I am happy that the "kids" like the toys, I can assure them that a couple of them were pretty good, (hope they don't see my mouth print).
Also glad that you like the towels. Mom says they are "just you Loki", think it's cause when she can't find me she knows I am in the Shower!! I just like to help clean the shower floor, especially after someone has had a shower. It just has a unique taste and I just like it better than the water in our dish!!
I will fold my paws together for Jenny to not hurt too much, before I go to bed tonight. My Mom just kept muttering about someone called an idiot when she read your mail about Jenny, sometimes I don't understand her!
Loki B.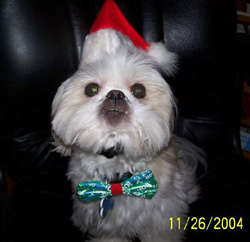 November 2004
October 26, 2004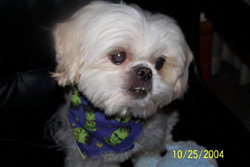 Hi, Jan,
Well, as you can see, Loki is just too cute for just one picture!!! He was semi in the mood for pictures tonight, so I took advantage. He sends his love to Auntie Jan & Unkie Bruce, and all the pupsters that he knew, and to Auntie Judy too. Again, thank you for finding him. Keiko also sends gratitude for her bro. Jan, Loki, & Keiko
October 4, 2004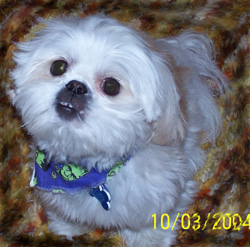 Here is the October Loki, ready for Halloween!! He loved greeting the kids last year. I am beginning to think that I may keep him!! ?o)
Have a great fall.
Jan & Loki
August 9, 2004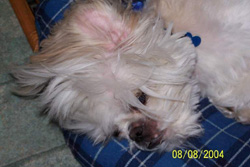 Auntie Jan,
Mom said that you would be amazed to see Keiko & I showing our matching dental work!! I thought you would like to see me relaxing and getting fresh air to my brain, through my ear!! Amazing the things I can think of do after airing the cobwebs. I am doing fine, and those darn belly bands seem to work for MOM, she just doesn't understand my tinkle priorities!!!! Tell all the pupsters "woof" from Loki B.
love,
Loki
June 2004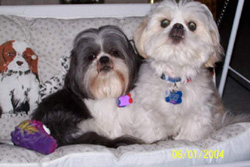 June 2004
April 18, 2004
Hi!
Loki is a peach (most of the time), he is so cute when he takes off running to tease me, he has become very personable. On Easter he jumped into my 86 year old aunt's lap and took a snooze, she was absolutely thrilled, will forward a picture of her with him so you can see. Can't seem to get it from my photo album attached to my email. Take care, and will keep checking on you, have to see all the newbies!
Jan & Loki
February 18, 2004
Good evening,
A Loki update: Last night he actually chased one of his toys when I threw it and brought it back for another and another time. He also let Keiko jump up on him without telling her to buzz off!! That is her invitation to play. Both of these are new! He has also run the tzu race in the living room a couple times. It is amazing that he comes to life a little at a time!! Also more loving, as in the 5 am bath of my face, and not letting Mischa get to me first, but still respectful of her place in the doggy order. I had no idea that it took so long, but do now understand the process of his return to himself.
Love the site and all the pics of the Collins Crew. Enjoy it frequently. And have to keep tabs on the pending page!! Loki sends kisses and groans.
Jan
January 13, 2004
Jan,
Another note to tell you howfar Loki has come-I think-again watching he & Keiko out the window, running in the snow. He has given me so much pleasure and joy, just watching him grow and become himself! He is a GREAT squirrel hunter (and they know it), so he does get teased-by the squirrels. His feet get cold-(I have boots for both, but will they walk with them on-uhhhh, no) and he stands holding up the one that is the coldest, but trying to get the other one off the ground-then as soon as he is in the house, the whining and woeful looks begin-so I hold them to warm them up and he smiles at me.
I can't imagine not adopting now, I know that I am very "Lucky", he has done so well, and that isn't always the case, (my son's dog for instance-but they keep working with her, almost 2 yrs now), but think it is worth the effort. He almost thinks he might respond to Keikos many lunges at him, as a play invitation. He does run and romp individually now, and I get lots of warm fuzzies watching him.
Now, don't think that he is spoiled!!!!!!!!!! There does seem to be an unusual smell around the house-rather like something(s) rotten.
January 4, 2004

Jan,
Will let you be the judge of how Loki & Keiko's Christmas was!! This doesn't include the many bags of "natural" treats they received. Mischa's interest is in the treats only!! He did well with the 2 additional dogs, only 2 confrontations (which he starts), and Keiko runs right in to help him-she loves her bro!! All is well.
Jan & "kids"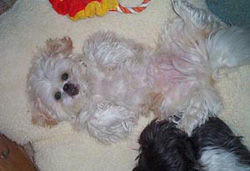 December 2003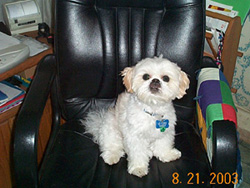 October 2003
July 3, 2003
Hi Jan,
We have been thinking of you and Bruce since the news of Sophie's passing. It is so horrible to lose one of your pets, they are like our kids! Hurts a bunch. I am supposed to be on vacation, but my Mischa has become wierd at night up north, and none of us (loki, Keiko, or me) were getting any sleep, so we came home today, she seems fine here!!
Loki is so handsome now with his fur coat on, he continues to improve with everything that needed work, and gives nose touches to the girls on occasion now. I get lots of kisses, his manners are good, and he travels like a dream. Still working on the barking (but doing that with Keiko yet, as well)! He loves it at the lake, but not sure about all that water! I have a life jacket for him, and we will take him out on the boat a little later. I am so glad that the little menace popped up on my computer screen that day ;o). He has no hair under his chin, so he has that fuzzy face look, and everyone thinks his face is so cute. Will send you an updated picture soon. At the moment he is demolising a bone, just had his bath, so you know, time to get messy.
Hope this finds you doing better, tho missing Sophie I know. Tell Bruce that Loki and I think of you both, and talk about his first Momma Jan frequently. Take care, and enjoy the fourth.
Hugs
Jan & Loki
June 11, 2003
Hello,
Loki is doing pretty well, he had another round of ear meds for a week, then 2 days a week, to keep his ears well. Have him on neomycin eye drops 3x's a day now, and his eyes are much improved, only had drainage once since we started the drops, and they are less sensitive to light as well.
He is a character! He does (I'm not always sure how), get up on the table, and yes, I'm afraid he has left his mark for us!! It is usually when he has not gotten to go with me, or he is ticked because he didn't get something he thought he should have! The day to day potty training is doing well now----unless he gets ticked (he does have an attitude). He is able to JUMP the normal dog fences (that my kids have), and does so!! I have a higher kid gate that he can't get over. Took him to both kids last week, and he got over the fence and left Keiko alone on the regular floor - in case he had an accident. (my type just changed itself here).
He does now snuggle up next to the girls, but still hasn't figured out how to play WITH Keiko, but we are trying to teach him. Both he and Keiko wear seatbelts in the truck, and he has been excellent with that, and to my surprise she has too. Everyone thinks he is a doll, and (most of the time) he is. He does nip (but not bite) with grooming if it pulls, and we will go to the groomer soon, his hair is quite a lot longer, and he needs to be shaped (I'm not good at that).
My neighbor lady that "puppysits" loves to come over and take him out for his potty and playtime, took him to her house one day and he was very nosey, but good. He has settled in to be a regular family member here, and I am so glad that he could come to us. He is a challenge at times, but who isn't, and I don't mind. He has his own monogrammed blanket for bed at the lake, and loves it's softness. NO, they are NOT spoiled-just "special"!! :-)
I watch your site regularly, and keep up to date with your work. I'm sorry I haven't let you know about Loki, my son, and my daughter-in-law both had surgery in the last 2 weeks, so I was a little preoccupied, all are doing well NOW. I will update you (especially after his grooming-with a picture), just don't want to bother you too much!! Take care and have a good week!
Jan (& Loki)
May 21, 2003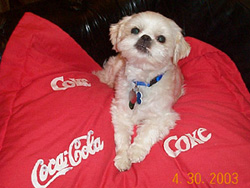 Hi Jan,
Here is a Loki update!! He is doing well, and is finally "beginning" to play a little "with" Keiko. She is so anxious for him to play with her. You can see by the photo that they have NO toys :o)
See that you are definitely progressing with the rescues, watch your site at least weekly!
TTYL
Jan & Loki
May 5, 2003
Hi Jan,
Well, we tried to get a photo for you, but we can't all be lookin good at the same time. My son took these after we had Loki & Keiko microchipped yesterday, he was excellent for that. I will probably send you 1 or 2 more and you can choose which ever you like.
Took Loki to vet today, got his heartworm meds and he has an infection in his ears, so we have meds for that and will get them rechecked when all the med is gone. He was a very good boy at the vets, but was not happy when I had to leave after getting him home, so he was a stinker! Got on the table (a first for a dog here), got into things on the table then (get ready for this), he peed on the table. We had a conversation about that when I returned.
He is coming along well, still potty issues, and he doesn't back down from ANY dog, no matter how big!! Everyone loves him, and he is a sweetie MOST of the time. Hope things are going well for you, and the rescue. I will keep an eye on the site, and update you on the little stinker! ;o)
Jan
April 27, 2003
Jan,
Just a quick note to let you know that we are doing fine! The new saying here is: "Okie Dokie Loki"! Didn't intend to change his name, but it just happened! Loki is the Norse God of "mischief", once I found that out I knew it was his name! He is doing much better with Jordee (cat), she is doing some better with him. He has traveled well, and loves riding and walks, puts himself to bed at night if he is too tired to wait for me, giving kisses to all the lady visitors, (not so much the guys). Is becoming more and more independent and self assured. Potty training is going well, only 2 accidents (that I know of) in a week. He is just a delightful little guy and we are VERY happy with him. Going to the vet a week from tomorrow. Still afraid of the camera, but that is improving. His coat is coming in beautifully, hopefully can get pictures eventually without him being afraid. Well, guess this isn't short, as I intended, but there is so much to say about him.
Will email you again with progress later.
Jan
April 23, 2003
Jan,
Just a quick note to let you know that our adorable young man is now getting much more comfortable. Greeted me with multiple kisses when I got home tonight. Slept a good 12 hr. then napped after Dur went to work, so is really feeling good. He is well on his way to learning to speak, eating carrots with the girls, and scattering toys all over the house, hasn't quite gotten to playing with Keiko (now that she decided that might be ok), but is definitely a love. Seems to like being brushed and hands on cares of the day. Can't understand how anyone could mistreat him!!! Thank you so much. Will send pictures later.
Jan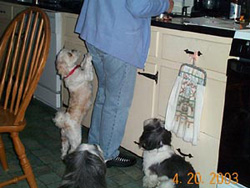 April 2003
April 20, 2003
Good Morning,
Hope I don't drive you nutz with these notes, know you are busy. First night went well, he slept like a log, moved only once that I know of. His name kind of got rearranged by the mispronounciation of an admirer, and we think it is cute, so he is Lucky Loki. He answers to either one!! :-). We will see!
One of us is having a problem with the potty business, but I will learn-caught it right away this morning. My sister thinks he is "pretty cute"---- and I am the animal person. Will update you later in the week, he is helping with this note. His separation anxiety is much less this morning-I think, he might differ with my opinion, but he is much more relaxed. Likes my lap. Happy Easter.
Jan & Lucky Loki
April 19, 2003
Hi,
Quick update: Lucky wanted to know "why you left him here all alone", kept looking for you down the driveway. Dur (my sister) got home around 1p and he was very friendly to her, especially when he found that she had food! I forgot to ask you how much food he gets and how often, he told me that he was quite hungry, and of course talked me into some lunch. He is getting more relaxed, has been sleeping on the couch with Dur, and the girls for the last hour and a half. He is so cute. As I speak he gets up, we went out to potty and now he is just ambling around. Seems more at ease now. I think he will be fine in a few days. Keiko does so want to play, but that will come. If you can let me know sometime about his food, I'd appreciate it, then he can't talk me into what he shouldn't have. He has received 2 phone calls from friends already. Thanks again, and hope you had a good trip to Lansing and home.
Jan
Copyright© 2004 - 2005, Peke A Tzu Rescue. All Rights Reserved.
Photos on this page belong to the furbaby's housekeeper.
Do not take anything from the site without permission.