Rocky's Forever Home Update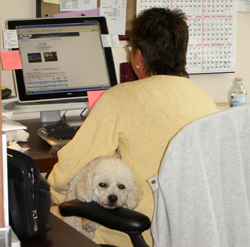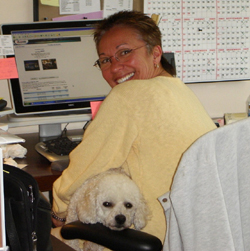 April 28, 2005
Here is our quarterly update! Got your newsletter – love getting them. When cash flow increases Rocky will remember his friends with a nice check.
These pictures were taken today while Rocky and I were enjoying a tender moment in Mom's lap – the employees love him cause he's so darn cute! Both he and Augie are due for their hair day next Thursday.
We just returned from a fabulous trip to Italy – brother and sister-in-law were in charge of the kids at home. All had a great time and when we got back we had grass and Dad's hosta's he loves so much. Our executive assistant Erin had the job of stopping by the house and doing daily doggie walks as Pat (sister-in-law) is not confident in the dog walking area. Rocky LOVES his walks. Erin said to us: you know when you first got Rocky I didn't think he would ever walk on a leash!!!
We are all happy to be out in our lovely back yard and Rocky has been romping and running (loves to run!). I don't know if I mentioned in my last update but we also call him the "Mayor" – when someone comes to the door he runs to greet and check them out. You know of course this is his house and he wants to make sure they should be there! He is in great health and I should be bringing him to the vet soon for his annual check up, etc.
He grows more and more confident and is a very happy little sweetheart. He knows he is well LOVED! Take of those lovely babies as I know you will – we keep you in our prayers!
Love,
The Hoseltons
December 24, 2004
As long as we are able we will support your efforts when we can. You and the good Lord sent us this wonderful companion for us and Augie. I look at the website and wish I could take them all. . . old, lame, blind. . . I would love to care for them but our life doesn't allow us to this right now. . .so we must be content with helping your cause and loving Rocky very much (he runs the place now!). Have a Blessed holiday, our love to all and have a Happy New Year!
Nita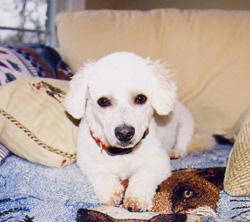 December 2004
October 7, 2004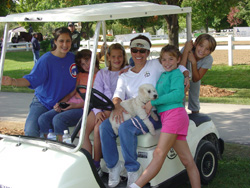 To All My Pupster Friends:
Sorry I haven't written but I have been SO busy. This is a picture of me at the 2004 IHJA Finals (Equestrian) held in mid-september. As you can see life is tuff. I have so many girlfriends and my very own golf cart to ride around in with Mom when she sends my cousin to the horse shows. Oh by the way he was champion in his division for the year and will be awarded at the banquet in November. They had an award ceremony and Mom was in the winner's circle with him getting her picture taken (and she was crying!!). A nice lady was holding me until all the pictures and his victory gallop was over!
All the pretty ladies from the left: Natalie and Olivia (Mom's step daughters), then Kali, Mom & Me!, Danielle and Sandi. They all ride horses, how fun. I'm having so much fun and wanted to give you guys some words of encouragement. I am fully potty trained also learned how to walk on a leash. We now go for daily 1 mile walks and I have so much fun. Augie had to show what walking was all about, I get to sniff and lift my leg all I want! But mostly I love being outside and sniffing with Augie. I love to eat so Mom says we have to exercise. If it's too cold in the winter we won't go as much. I have my own sweater for brisk but nice days. I jump on all the furniture and love to scurry around and pretend no one catch me. At work if I whine a little bit a give mom the big brown eye look she fixes a little bed on her desk so I can sleep very near her or even better she'll let me sit on her lap while she does her computer work. I love Augie, he has taught me so much and I have helped him get off Prozac. I have become a quiet reliable companion for him. So the moral of my story is, Jan will make sure she will find you the right home and if you have to learn potty and leash training it's a small thing to do for your forever home.
Well, gotta go Mom wants to try and to teach me to "sit" on command. . . always something to do! Will send another photo at the Holidays. . . I wonder what Santa will bring??
Rocky
SEptember 13, 2004
Don't worry I won't send you these every week but wanted to share Sully in his new environments. At work and at play. He is going to his 2nd horse show event this coming week-end. Last week-end he went to one and really did quite well – he told me the his horse cousin was quite BIG and wasn't sure he liked the kisses. He hasn't had an accident in almost two weeks. He loves the smaller dogs he meets at all the horse shows. My Narrative: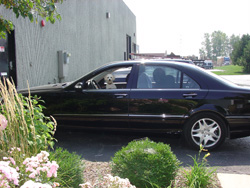 Rocky and Augie arrive to work Monday morning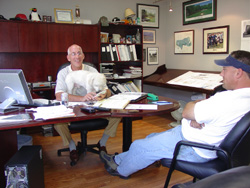 Rocky crunching numbers with the other executives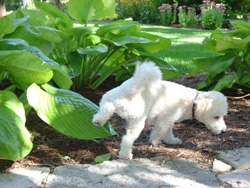 Watering Jim's hostas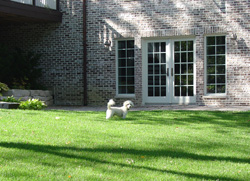 Looking over his yard (or looking for Augie??)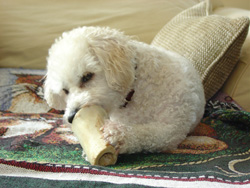 The best dental treatment around


Copyright© 2004 - 2005, Peke A Tzu Rescue. All Rights Reserved.
Photos on this page belong to the furbaby's housekeeper.
Do not take anything from the site without permission.