Sherpa Hobo Sling
Pet Carrier
Sherpa has been defining pet travel since 1989!




Timeless design and elegant style are words to describe the Hobo Sling Pet Carrier.
This great looking carrier has the durability and distinct look you'll need to travel around without compromising style for comfort.
Convenient with top and side entries, as well as a shoulder strap for carrying, your pet will grow to love its home when traveling!

This Sherpa Hobo Sling Carrier Features:
Mesh Side Panels For Optimum Ventilation
Convenient Top Entry
Washable Lambskin Liner

The Sherpa Pet Group warranties this product for one year against manufacturing defects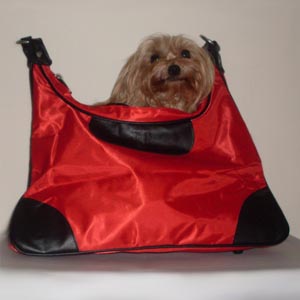 Size Small
Carrier Dimensions 8" H x 19" W x 15" D
For pets weighing up to 8 lbs
Pet Dimensions 13"L x 8"H
Veterinary, Train, Car And Airline Approved
Fits Comfortably Under Airline Cabin Seat

Sizing Help: Your petís measurements are very important for safe, comfortable travel.
For a proper fit, carefully measure and weigh your pet.
Length: is from the nape of the neck (where the collar falls) to the base of the tail.
Height: is from the floor to the shoulder.
Weight: should not exceed maximum weight.

The Sherpa Pet Carrier is $30.00 including first class shipping within the US.
If shipping to Canada or UK, postage will be $7.00, so please add to the cart below.
We are now offering US Postal Service Priority mail within the US for $7.00.
To order, click on the USPS Priority Shipping Paypal button below.
Peke A Tzu Rescue is happy to accept your donation through paypal by using the links below and your order will be processed IMMEDIATELY.
If you prefer to pay by other methods, please follow instructions at the bottom of the page.

If you would like your Sherpa Hobo Sling Pet Carrier
Shipped by USPS Priority Mail, please pay below
If you prefer to pay by personal check,please
make your check payable to Peke A Tzu Rescue
and mail to:
Peke A Tzu Rescue
PO Box 1
Trufant, MI 49347
Include how many Pet Carriers you would like
and your email address so we can email
to confirm order.
Back to Furbaby Fashion Store
Copyright© 2005 - 2023, Peke A Tzu Rescue. All Rights Reserved.
Contents of this site are the property of Peke A Tzu Rescue. Do not take anything from the site without permission.