Sweet Dreams Angel
Pet Urn
Our Sweet Dreams Angel Pet Urn was lovingly designed
and specially made for Peke A Tzu Rescue by Betsy Ratzsch Pottery in Grand Rapids Michigan.
The urn stands 8.5" tall. It measures 3.75" across the base
and the wing span at the top of the urn is 4.5".
Draped on the sleeve is a beaded necklace
with a bone as a display example and not included with the urn.
You can drape your pet's original tag or any other item that belonged to your pet on the arm of the angel.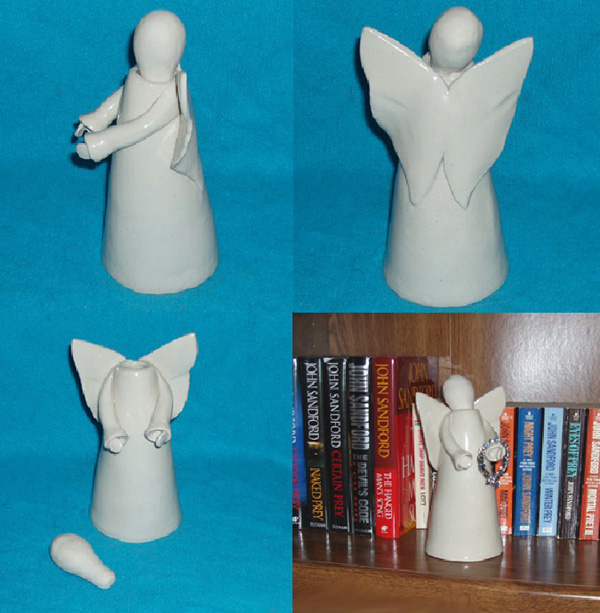 The urn will hold the cremation ashes of a 15 pound pet and can be sealed
with silicone around the head of the angel once the ashes are in the urn.
Typically your pet's ashes are returned to you by the crematory providing
your pet cremation services in a plastic bag.
If you find it's necessary to repackage the cremains,
we suggest using an appropriately sized zip lock bag, or a plastic bag
secured with a tie to prevent accidental loss should
the pet urn be dropped or damaged.
Our Sweet Dreams Angel Pet Urns are $30.00 each including USPS Priority shipping within the US.
To order, Peke A Tzu Rescue is happy to accept your donation through paypal
by using the link below and your order will be processed within 24 hours.
If you prefer to pay by other methods,
please follow instructions at the bottom of the page.

If you prefer to pay by personal check,please
make your check payable to Peke A Tzu Rescue
and mail to:
Peke A Tzu Rescue
PO Box 1
Trufant, MI 49347
Include the quantity of urns and your email address
so we can email to confirm order.
Back to Pet Urns
Copyright© 2005 - 2022, Peke A Tzu Rescue. All Rights Reserved.
Contents of this site are the property of Peke A Tzu Rescue. Do not take anything from the site without permission.