December 1, 2017



Well, here we go!!! We pupsters are thankful Christmas only comes once a year. We of course love the season, but Mom's photo obsession increases ten fold. Cherish better beware for she is the smallest of all of us so she fits perfectly on some of the Christmas decorations. We have been telling her to run when she sees the camera but she is not listening. She'll learn eventually!

December 4, 2017



Presto reporting in. Mom and Dad thought I should really get into the spirit of things. So, what do you think all you pupsters? I look pretty cool if I do say so myself. Besides "Santa Claus is coming to town" and I am making sure I am very, very good. So if Mom and Dad want to dress me up every day I am wagging my tail and cooperating fully. Santa should be very proud of me!! I expect everything will be under the tree that I have on my list.

December 7, 2017



Cricket reporting in. You know with this weather getting colder and colder every pupster should have their own feline blanket to keep them toasty warm. Thought all of you pupsters would enjoy seeing this. Bet none of you has this kind of blanket! All of us here wish you a very Merry Christmas!

December 10, 2017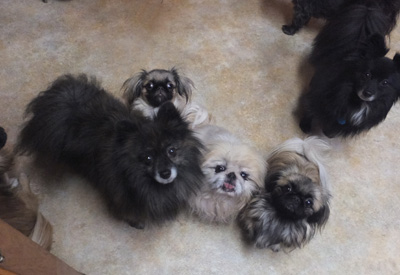 Boy, have we pupsters been having a great time!! Our Pommy sisters Zelda and Zoey came for a visit because their Mom and Dad went on a cruise. All of us were so happy to see them and they can keep up with the best of us…they are very, very fast. We enjoyed cuddling them and playing with them. We sure are going to miss them when they go home.

December 13, 2017



Hi Everyone!!! Bet all of you pupsters are having as much fun as Scarlet is having in the snow. Isn't it fun to watch our Mom and Dad's shovel away and we can just jump in the snow drifts? I'll take this anytime over hurricanes, tornados, earthquakes etc. All of us here wish you the best Christmas ever. Hope you all have been good 'cause you know what happens if you're not!

December 15, 2017



Ritter reporting in. OK all of you pupsters you can quit chuckling right now! Dad suggested I send this picture of me with my brother Peanut. Actually we had a lot of fun today. We got all dressed up and Dad said if we were very, very good there would be all kinds of wonderful things coming our way. So we tried our best to smile pretty for we know it means a lot to Dad. Actually it was really neat meeting Santa Claus…we had heard so much about him. We hope all of you are having as much fun as we are during the Holiday Season!

December 22, 2017



We pupsters just love this time of year. All kinds of goodies are arriving. Mom and Dad always let us help open the surprises. Now this is our kind of food. We love oranges, apples and pears. Mom said she'll slice up the fruit shortly and we can munch away. Thank you Auntie Jean for thinking of us during this very special time of the year!

December 25, 2017



We pupsters had such a wonderful day today. So many yummy new treats and lots of extra special love. We wish all Joy Peace and Love from our hearts to yours.

December 31, 2017



It makes no difference if we are young or if we are old,
It makes no difference if we are black or if we are gold,
It makes no difference where we came from or why,
It makes no difference if we are afraid and so shy,
It makes no difference if we are arthritic and blind,
For Mom and Dad just don't seem to mind!

All of we pupsters have so much to be thankful for within the past 12 months. We have been welcomed into our new home and loved beyond measure no matter what issues we have…emotional or physical. We have met so many new friends. We have watched as many of our brothers and sisters have found wonderful, loving homes. As we close this year, we want to thank all of you who have supported us. One of the most important things that we learn from Mom and Dad is that we are all equal, that sharing and cuddling close helps us become healthy and whole. As all of you begin the New Year, we hope that you will all open your hearts to those that are in need.
Copyright© 2004 - 2018, Peke A Tzu Rescue. All Rights Reserved.
Pekingese Rescue, Shih Tzu Rescue, Maltese Rescue, Poodle Rescue & Yorkie Rescue.
Contents of this site are the property of Peke A Tzu Rescue.
Do not take anything from the site without permission.