February 1, 2018



Welcome to February everyone!! Looks like another month of just relaxin' and enjoying ourselves inside. It is really cold outside you know. We spend a lot of time watching television during the cold months and snuggling close with each other. By the time spring arrives we are so packed full of energy we can hardly contain outselves!

February 5, 2018



We love Super Bowl Sunday!!! The Pekes and Shih Tzu were split on who was going to win. Rolo and Prechie stuck with their favorites the Patriots. Barley and Prescott were for the "Under Dogs". We were hoping for some doggy advertisements, but no luck with that. We all settled in for the game and shared our popcorn like good pupsters. There were times where the clapping and howling got a little out of paw, but all in all we had a really good time. Barley and Prescott were holding their breath at the end and of course there was this little thing of the treat bets. Both of them really have a stash now, but said they would share. Hope you all enjoyed the game as much as we did!

February 8, 2018



Zandy reporting in! You pupsters all know I just wasn't crazy about all of you so that is why Mom found me a home where I could be the one and only. I have discovered however that I like kitty cats. My new friend who lives with my Auntie was always hiding, but she really likes me and I like her so guess we were made for each other. So whenever Mom and I visit my Auntie I have someone to snuggle with!

February 12, 2018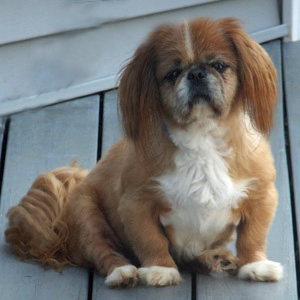 Wow, we pupsters are thrilled! Can you believe this weather? Sun is out and the snow is gone. Laddie here loves to be out in the sunshine…just isn't anything better than feeling the sun beat down on this 'ol body. Well, some people would say it is still a bit chilly, but hey, if it is 40 and sunny I am all in!

February 19, 2018



Peanut reporting in. I have joined the PATR Pupsters just recently. It has been kind of rough for me. My Mom was really, really sick and we had to say our goodbyes. I am getting lots and lots of love and attention, but am still really unsure of myself. Things are looking up though. Everyone is so good to me here and there are lots of great pupsters to snuggle with. AND the treats are endless…not that I like to eat or anything!

February 23, 2018



What makes you think Grayson is hiding here? Well, you may be right. This grooming and puppy cut stuff is not on my agenda you know. I certainly hope you are done for the day. Geez, leave a guy alone. I thought I looked just fine before. Now thE girls won't even recognize me and I had a good thing going!

February 28, 2018



Wow, here it is the end of February already! Pretzel here is definitely ready for spring. Can't wait to stretch out in the sunshine and feel that warmth on this old body. We have all been trying to behave ourselves, but you know it gets a bit boring during the winter months so time outs are always on the increase. We are hoping for a warm March….see you soon!
Copyright© 2004 - 2019, Peke A Tzu Rescue. All Rights Reserved.
Pekingese Rescue, Shih Tzu Rescue, Maltese Rescue, Poodle Rescue & Yorkie Rescue.
Contents of this site are the property of Peke A Tzu Rescue.
Do not take anything from the site without permission.