April 1, 2018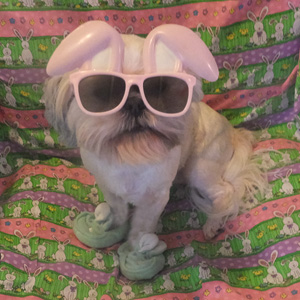 Wow, Easter is here once again. Well, Mom got out the bunny glasses as usual. For those of us who have seen this routine before we made ourselves scarce really fast. Of course Sage had no idea what was coming and ended up in the photo shoot. Someone needs to find where Mom stashes her holiday props and dispose of them! Once pictures were done we had an Easter Treat Hunt…yum, yum! We hope everyone one had a wonderful day today with family and friends.
Copyright© 2004 - 2018, Peke A Tzu Rescue. All Rights Reserved.
Pekingese Rescue, Shih Tzu Rescue, Maltese Rescue, Poodle Rescue & Yorkie Rescue.
Contents of this site are the property of Peke A Tzu Rescue.
Do not take anything from the site without permission.