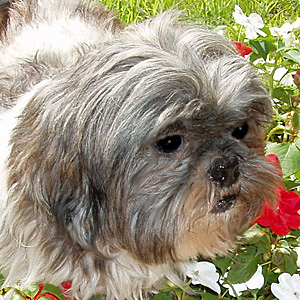 Click on the photo for more photos of Bentley.
Bentley

I am an 11 lb, brindle and white Shih Tzu boy who is packed full of energy. My 13 yrs do not slow me down a bit.
I was left at this horrible place called a shelter. I was so very lonely, but along came my rescue angel. I just love life - give me toys and I will entertain myself forever. I can get a little selfish sometimes with the toys, but Mom is teaching me this is inappropriate behavior. I love to run and play and be loved. The best thing in life are these things called belly rubs - can handle that all day long. And, oh, the soft cushy beds are a dream come true. I have lost the sight in my right eye, but this does not slow me down a bit. I would like a home where there are no small children and one or two other pupster playmates.
Because I am a senior, my diet is an extremely important factor in my overall health. Mom wanted to feed us the very best diet available, so Peke A Tzu Rescue became a distributor for Oma's Pride Raw Food products. I am enjoying a yummy turkey & veggie mix raw diet now. Mom alternates between turkey, beef and chicken raw diets. Please read about my special diet. Mom adds the following supplements: digestive enzymes, probiotics, kelp, DMG and salmon oil for a healthy balanced meal. I hope that my forever Mom/Dad will love me enough to keep me on a raw diet.
I am house trained, am leash trained and handle well during grooming. I am looking forward to finding my special home.
I am neutered, current on vaccinations, tested heart worm negative, on Interceptor for monthly heartworm prevention and on a natural flea protection. Total vet costs can be seen at Foster Vetting Costs. My adoption fee is $300.
We appreciate Melissa Ekmark for lovingly sponsoring Bentley, in memory of her spunky Shih Tzu girl, Josette.